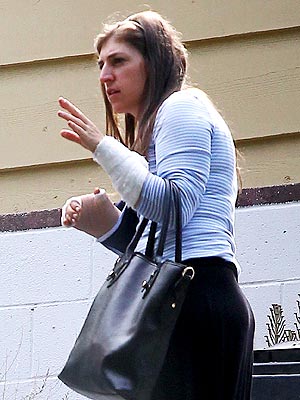 FAMEFLYNET
Mayim Bialik is in recovery mode after a car accident on Wednesday left her hospitalized.

The Big Bang Theory star, 36, who managed to make it to work just one day after the wreck, was photographed on Friday near her home in L.A., wearing gauze on her left forearm and a full cast on her right hand.

At the time of the accident – caused in Hollywood by three tourists from Chile turning into her vehicle – LAPD Sgt. Monte Houze told PEOPLE that the actress suffered "a severe injury" and, "I was told, there was a lot of blood at the scene."

Writing she was typing with her opposite hand, Bialik blogged on Friday, "I had a horrible accident. I will be okay. I have all my fingers, but a very impaired right hand. It was very bloody and scary, but I am okay."

The former Blossom star, who Tweeted that her accident is preventing her from going to the Jewlicious Festival, adds in her blog that she is a "deeply religious person who used prayer and deep breathing" for several hours following the incident before being medicated.

"I will be continuing on The Big Bang Theory with no weeks off," she writes. "They are so good to me, and I love my job and the support I get from my buddies on the cast and our loving staff and crew."